Ironman Oregon 70.3
RACE REPORT by Jim Peplow
There are no coincidences, everything happens for a reason. That was the theme for my Ironman Oregon 70.3 journey this year. I was originally signed up to compete in the initial IM Oregon last year, however a family medical issue forced me to pull out the day before the event and fortunately I was able to defer my entry to this year. In the meantime a lot of life changing events have happened. First I retired at the end of 2021. Then three months later we moved to College Station, Texas. So now getting to Salem, Oregon was no longer a simple weekend drive but a long car trip. We decided to go back and stay in Chico for a month to visit family and friends, starting that stay with the Black Butte Sprint Triathlon at the beginning of the month and the IM Oregon race at the end of the trip. I was in great shape for these races, having just completed the full IM Texas at the end of April, plus being retired has afforded me a lot more time to train.  
I did well in the Black Butte race, winning my age group and finishing 2nd overall, and was now looking forward to Oregon. However, just two weeks before the race I tested positive for COVID. I was very tired, had headaches and my body was aching. After isolating for five days I tried to do some light workouts but was slow and the fatigue factor was real. At this point I honestly didn't know if I would be able to race or not. Fortunately, I slowly gained strength and even though I was still getting tired more quickly, by race weekend I felt good about my chances. I just didn't know if the "long COVID" fatigue would creep up on me sometime during the run. At least I was going to be able to start the race, whereas if it had been either of the previous two weekends I would have had to drop out before the start.    
I had an interesting encounter while waiting in line to check in my bike the day before the race. The guy next to me was excited to see the Chico Tri Club sticker on my bike. Turns out it's fellow Tri Club member Donald Rioux. Now, the crazy part of the this is that his race number is 1406 and my race number is 1407. The numbers are assigned sequentially at check in. Unbeknownst to each other we checked in the afternoon before at the same exact time and got consecutive numbers. So of course we were racked next to each other in the Transition area.  
As I stated at the beginning there is no such thing as a coincidence, so what happened the next morning was all the more interesting. Our hotel was about three miles from the race start, so instead of waking my wife up to drop me off at 5 a.m. I figured there were a lot people driving to the start. When I got to the lobby, I asked someone if I could catch a ride with them. "Sure, no problem". So, as we were driving there we were talking and turns out we were both originally from Los Angeles. Drilling down further, we were both from Sherman Oaks. We both went to the same High School and same Jr High School. How crazy is that!  
It was a beautiful day and the race weather was perfect. Before heading off to the swim start I walked around the transition area and gave greetings and hugs to several of my Tri friends (Al, Sena, Gordon, Donald). The walk to the start is a little over a mile from T1 and everyone is excited about the PR they are most likely to get on the downstream swim in the Willamette River. That PR talk turned out to be true. Swimming is by far my weakest discipline of the three and in all my previous 70.3 distance events I've never broken 40 minutes in the swim leg. The speed of the Willamette definitely turned out to be true as I recorded a swim time of 24.46.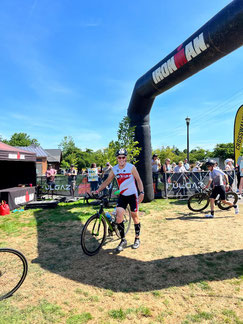 I did a recon ride covering about half the bike course distance the day before and thought it was a very nice, relatively flat route with some gentle rollers. With the total elevation gain for the course listed at around 1,150 feet that makes sense. It was funny at the end of the race to hear some people complain saying it was much hillier than they thought it would be. I had to laugh. Anyone who thought that course was hilly must train on only pancake flat terrain. That's one nice thing about all the miles I've put in on the Sierra Nevada foothills. Definitely missing that hill training in Texas.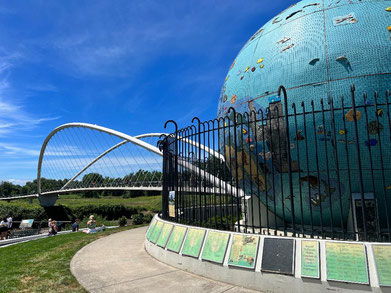 The Peter Courtney Minto Island Bridge was part
of both the first mile and last mile on the run. 
The run was a beautiful, mostly shady two loop course around Minto-Brown Island Park. My goal was to break two hours and through the first half of the ran I was feeling good, averaging a 9:01/mile pace. I starting slowing a bit during the second half. I felt my training was good enough to maintain that original pace throughout the entire run, so I figured the slower pace could be attributed to my lingering fatigue from COVID. Fortunately it wasn't a drastic decline as I averaged 9:32/mile for the second half of the run, just missing my two hour goal by one-minute 32 seconds.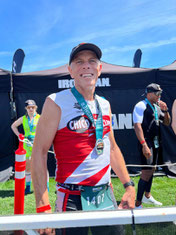 My overall time was 5:36:57, which was a PR in a 70.3 event by 7 1/2 minutes. I know the quick swim had a lot to do with that, but considering my uncertain lead up to the race I was extremely happy with that result. I ended up 9th in my age group (out of 36 finishers).  
Every athlete has something they say to themselves or think about during long distance events to help them get through. My favorite thing to think about in the later stages of races is the Bible verse Isaiah 40.28-31. "Have you not known? Have you not heard? The Lord is the everylasting God, the Creator of the ends of the earth. He does not faint or grow weary. His understanding is unsearchable. He gives power to the faint, and to him who has no might He increases strength. Even youths shall faint and be weary, and young men shall fall exhausted. But they who wait for the Lord shall renew their strength, they shall mount up with wings like eagles, they shall run and not be weary, they shall walk and not faint." One way the Lord reveals Himself to me is by what most people consider coincidences. When I have several "coincidences" in a short period of time, I know it's the Lord speaking to me and letting me know that He's always watching over me. During the second half of the run I started thinking about the earlier encounters I had with my Chico Tri Club teammate and the ride I had with the guy who went to my same high school. What are the odds of that? Astronomical. That thought brought a big smile to my face and gave me total peace during the last half of the run that no matter what happened with COVID fatigue or anything else, He was in control.
The awards were fun to watch. There was a strong pro field with Justin Metzler winning the men's race and a strong trio of women (Danielle Lewis, Mirinda Carfrae & Heather Jackson) earning the top spots. I was glad I stuck around for the World Championship slots, and was somewhat surprised when I heard my name called during the roll down for my age group. So I guess I'll be going to St. George, Utah the last weekend of October. Crazy thing is that I'm already signed up for IM Waco 70.3 just two weeks before that. So I'll be doing two IM 70.3 events in two weeks. It's going to be a busy Fall. 
Crossing the finish line. My time was 5:36:57. The time displayed on the clock was from when the first pros entered the water.