Ironman Texas
RACE REPORT by Jim Peplow
When I did my first full Ironman (Santa Rosa) in May 2018 I decided that I would do my second 140.6 sometime in 2022. The reason? I turned 64 on December 26 so I would be able to compete in the 65-69 age group. Also, I was planning on retiring around that time which would make it easier to fit in the needed 15 or so hours of weekly training. I retired at the end of December which was perfect as I was about four weeks into a 20-week training plan. I chose to sign up for IM Texas as we had planned to move in College Station early in 2022 and it is only about a hour away. (FYI – we settled in College Station because two of our kids, along with six grandkids and one great grandchild are here).
Overall my training and build up to the race was progressing pretty smoothly. I had done the IM Oceanside 70.3 at the end of October (which was actually my deferral race from IM Lubbock being canceled in June 2020), so I had a good base to start. Hooking up and running with the OAT (Original A-Team) on Saturday mornings really helped. Those guys are studs and it definitely kept me on my toes. After running the Bidwell Classic Half Marathon at the beginning of March I strained my left hamstring the following week. Training had been going so good and now six weeks from race day I'm dealing with hamstring issues (ugh). 
We had hoped to be in Texas by January or February, but with the hot Texas housing market it was a lot harder to find a place. Through a series of inspired events (which is a story for another time) we found the perfect house and moved in at the end of March, one month before the race. Between the hamstring and packing/moving, training time took a dip for about four weeks. But fortunately I had a strong base up to that point, plus I found a great Sports Chiropractic facility in College Station (Alpha Sports) that was a godsend.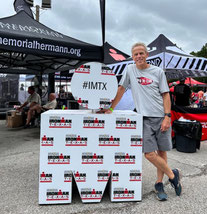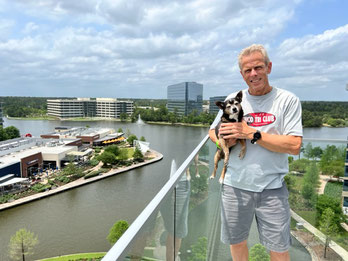 Checked in on Thursday for the Saturday race and received a nice surprise when we got to our hotel room (Embassy Suites). Turns out we got probably the best room in the whole hotel. Out of around 200 rooms only eight have balconies. We ended up on the top (9th) floor with a corner balcony. What an amazing view!
Swim Leg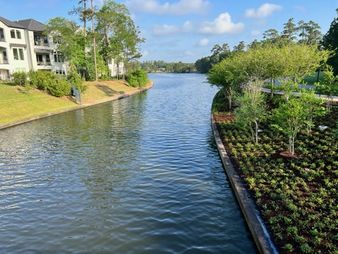 This race is always questionable if it will be wetsuit legal or not. Fortunately this year it was with a race day water temp of 75 degrees. Right before entering the water The Voice of Ironman, Mr. Mike Reilly, gave me a fist bump which was a pretty cool way to start the race. The swim course itself is a bit unusual with out and back segments in the main lake of just under a mile each, then finishes in the Canal for the last half-mile. The Canal is interesting as it's a narrow strip of water with spectators lining both sides cheering you on. (This photo is The Canal the day before the race, nice and peaceful looking). Overall my swim went well. I did catch a heel right in the goggles but fortunately no damage done. I heard from another competitor that he also got a heel in his goggles and had to do the entire bike and run with one eye before being taken to the ER after the finish line for a corneal abrasion. Stories always circulate about the questionable water quality in this swim, which I experienced first hand (more about that later in my report). One nice thing after the swim was the post-Covid reinstatement of wetsuit strippers. I was hoping for a swim time somewhere in the 1:20s, so I was fine with my time of 1:28. 
Bike Leg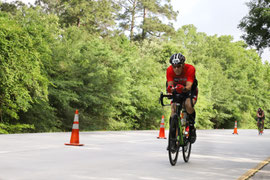 For this race nothing was allowed in Transition other than your bike. So after the swim you grab your bike gear bag, head to the changing tent and stuff all your swim gear into the bag, then head out to your bike. The first 20 miles of the bike is a nice warm up through city streets before reaching the meat of the course – 84 brutal miles on the Hardy Toll Road. This portion of the race consists of two full south and north loops with each segment being 21 miles. The entire course is relatively flat, but being on the toll road there is no protection from the wind, and boy was it ever windy! The wind here typically comes from the Gulf, so it's a south wind and it was blowing 20-30 mph the entire day. It made for a crazy tough ride. Going southbound, directly into the teeth of the wind, I only averaged about 13 mph. While northbound I was averaging about 23 mph. Definitely took its toll and wiped the legs out for the marathon afterwards. After the race all people could talk about was the wind during the bike. During the awards banquet the next morning the overall female winner, Jocelyn McCauley (from College Station TX), said this was the 7th time she's done this race and this was by far the worst wind she had ever experienced on it. I was shooting for a six hour bike leg, but considering the wind and the toll it took on everybody I was happy with my 6:39 split. I don't feel I pushed too hard on the bike and was ready for the run. 
Run Leg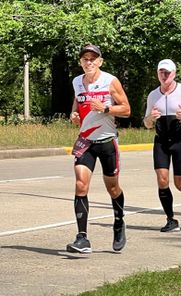 As soon as we reached T2 a volunteer took my bike to re-rack it. I grabbed my run gear bag, stuffed my bike gear into it and headed out for the marathon. The first couple of miles started great, just under 9:00 per mile pace and within my target HR. I definitely felt good and was thinking that I had a chance at a top 5 podium finish. Then a few miles later I started to develop some GI issues and was searching for the nearest porta-potty. Back to the run, but not for long. Started feeling lightheaded for the rest of the race and visited the porta-potty at least 2 or 3 more times (I lost count). Even though by this time all hope of a podium had long disappeared, the thoughts now were to just finish the race, which I had plenty of time to do. The weird thing was that I've done lots of races, but never had this type of GI or lightheaded issues before. Not sure why now. The run course consisted of three laps of about 8.5 miles each. By the time I was on my last lap it was a combination of slow jog and walking (four of my miles splits ended up being over 20 minutes). At least I knew I would finish under the IM 17 hour limit. I talked to several people that still had more than a full lap and they were just trying to meet the various check point times. The race ended up with a 17% DNF rate, mostly because of the wind.
After the race I was telling them about the GI issues and Janice said she had heard of several people having those types of issues, along with severe vomiting. The next morning at the awards banquet (and for the next couple of days on Facebook), a lot of people talked about getting sick and the consensus was that the it was the water during the swim. With the choppiness from the wind and all the arms and legs splashing it's almost impossible not to get some water in your system. At least I know know what most likely caused my issues.
I ended up with a run leg time of 6:32. Strava shows that my moving time was 5:33. Which means there was a full hour on the course that I wasn't even making any progress. I was 8th overall in my AG with a time of 15 hours 2 minutes. This was by far my worst run ever, more than an hour and 34 minutes slower than my previous IM marathon. Considering that I missed the podium by one hour and 24 minutes, I'm thinking that without the water quality issues I could have been there. I'm doing some research now and posed the question on the IM Facebook page. The replies included that some people took Pepto-Bismol or Charcoal tablets before the swim to help combat the unhealthy water. If any of the people reading this have suggestions on what may have worked for you, please let me know.
The Pro Men's race was very exciting. Ben Hoffman (Colorado) beat Magnus Ditlev (Denmark) by 14 seconds. Ditlev, in his first full IM shredded a tire 3 miles from the bike finish and lost nearly 10 minutes waiting to get it fixed.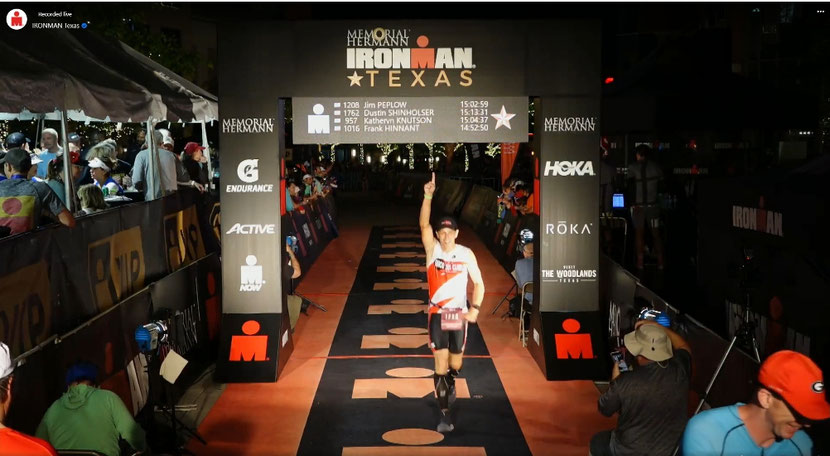 Overall it was a great event and the volunteers were amazing. I've never been to an event where all the volunteers were so helpful and friendly. I would consider doing this race again, knowing that the winds would probably be better in future years, and if I can figure out a way not to get sick from the water. Now it's on to Black Butte (June), IM Oregon 70.3 (July) and IM Waco 70.3 (October).