Ironman Santa Cruz 70.3
RACE REPORT – by Jim Peplow
Following my usual cycle of get healthy, train, race, get injured, recover, get healthy...I decided to take advantage of a current up cycle to enter my first races in a year. After knee surgery last November my workouts had centered more on swimming and biking, and I really only began serious running in May (about four months ago).
To give myself something to shoot for I entered the Ironman Santa Cruz 70.3. That race would take place one week after the Shasta Tinman which I had already planned to do. Two races in two weeks, the first being a sprint tri that would be a good practice and warm up for the main event. All went well at Tinman and five days later we were headed to Santa Cruz.
PREPING FOR THE RACE
After a warm (mid 70s) water swim in Lake Siskiyou the week before, I planned to do an acclimation swim Friday afternoon to get use to the colder (60 degree) waters of the Pacific. But first a recon bike ride to check out the bike course. The bike ride went well and I headed back to the hotel, which was only two blocks from the beach, to change into my wet suit.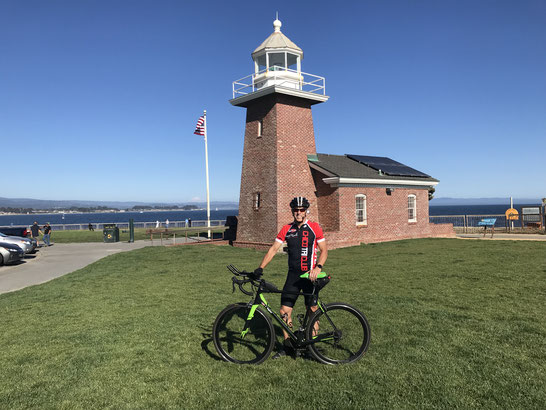 That's when my weekend took a strange turn. My bike tire got caught in a deep railroad track and threw me to the pavement. With a bruised shoulder, and road rash on my arm and hip, I slowly climbed back on my bike only to find my derailleur was messed up and I couldn't shift. A little panic started to set in as it was getting late on a Friday night and I couldn't race with my bike in this condition. After visiting a couple of bike shops that were not able to repair it, I  finally found a great bike shop a few blocks away that had an experienced mechanic who was able to get everything straightened out. Crisis averted.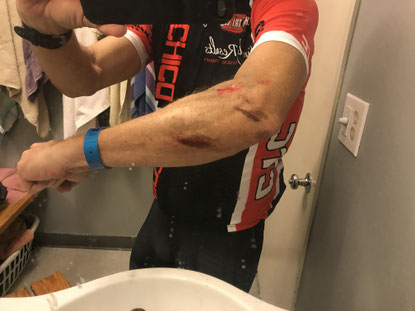 A little souvenir from the streets of Santa Cruz
Back at the hotel I then slipped into my wet suit to test out the ocean swim, but now it wasn't just getting a feel for the cold water, but also testing the recently bruised shoulder. At this point I honestly wasn't sure if I would be able to swim with how sore my shoulder was feeling, however the test swim ended up working out okay. The water didn't feel overly cold and I was able to stroke with the shoulder. Just hoping it wouldn't stiffen up over the next day and a half.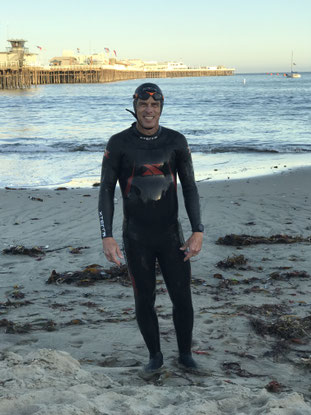 A pre-race dip in the Pacific was a success.
THE DAY BEFORE
Did a nice little bike ride to Capitola to test out the derailleur repair, also to test out the road rash on my forearm to see if I would be able to keep it in aero position for the whole ride tomorrow. One thing I've learned from many bouts of road rash is to quickly cover it with Tegaderm. On Friday night I had walked down to a Walgreens and got the needed Tegaderm and had covered the abrasions on my arm and hip. Everything checked out okay, both the gears and the riding in the aero position. It was then time to rack the bikes in T1. Our hotel (Ocean Pacific Lodge) was in a perfect location for this event, literally right across the street from Ironman Village and the Transition zones.
After a nice dinner on the wharf, and setting the alarm clock (plus a couple of backups), it was time for bed. 
Our hotel (Ocean Pacific Lodge) was next to the Ironman Village; View from our room onto T1, View from my bike in T1 back to our hotel room.
RACE DAY
Woke up before any of the alarms went off, which is typical before a big race since it's hard to get a deep sleep. Had my typical race day breakfast of oatmeal with mashed banana, and walked over to the bike racks to set up my transitions. I've done one previous full Ironman and two other 70.3 events, but this was the first time both T1 and T2 were in the same location. No hassle of extra bike bags, run bags, or busing to a distance swim start. It was very convenient. Plus the transition area was an artificial turf field, so it was as clean and neat as I have ever seen.
We then walked the third of a mile down to the beach start. The same path we would be running back up after getting out of the water. The pro men started at 6:50, with the pro women starting two minutes later. With over 2,200 wet suit clad age groupers waiting to get into the water, a rolling start was set up so people could self seed themselves (from times ranging from the low 20s to over an hour). At 7:00 the fastest of the age groupers started. With swimming being my weakest leg I settled into a group in the high 30 minute range. Slowing working my way to the start line (a group of five was released every five seconds) at 7:15 I was finally in the water. One thing I've learned from previous experience is not to go out too fast in the swim. You are not going to save a lot of time, and more likely you'll lose your breath early and struggle the rest of the swim. This was my first ocean swim race so I started out easy and developed an nice comfortable rhythm. The swim course went out on one side of the wharf, made a right turn to get to the other side of the wharf, then a second right turn to head back to the beach. The swim wasn't great, but it wasn't bad either. I was mid pack with a time of 40 minutes. I was okay with that, and the shoulder ended up being a non-issue.
Running off the beach I was surprised to see a group of wet suit strippers there. They had said in the pre-race meeting that there would be no stripper. I love getting the wet suit stripped off (saves at least a minute or so in transition).  However I wasn't expecting them, so after having my wet suit stripped off I couldn't find my goggles. I couldn't afford to waste any time looking around for them, and one volunteer said he would turn them into lost and found. (At the end of the day they were not in lost and found, oh well). 
Under the Swim Finish banner and starting the 3rd of a mile trek to T1
The transition to the bike went well as we began the climb up West Cliff Drive. I tried to put my sunglasses on, but they were too damp and the lens were blurry, so I decided to wait until I could dry them up a bit. One of the main reasons I wanted to do this race was because of the spectacular bike course, out and back on Hwy 1 along the ocean almost the whole way. Plus the road was closed to through traffic, so there were very few cars along the entire 56 mile course. The ride started great, averaging around 20 mph for the first eight miles, but then a strong head wind developed which refused to go away and in fact increased as the day wore on. In studying the course I expected a NW wind to develop later in the day, but this one arrived sooner and stronger than anticipated. So until we turned around at mile 28, it was a windy battle. At the turn-around point my average speed had dropped into the mid 16 range.  However, the positive thing was that the wind continued in the same direction on the way back in, so the head wind going out was a tail wind coming back in! I ended up with an overall average speed of 18.4, with a time of three hours and two minutes. (My original goal time was three hours, so considering the wind I was happy with that).
The views of the ocean and beaches were great and the volunteers at the refuel stations were great. The one area I paid special attention to was a RR crossing near Davenport. When I had my bike repaired Friday night the mechanic warned me that he has repaired lots of bikes that go down on those tracks. The race organizers put some colorful tape along the track so they would be visible. I made sure to cross them at a 90 degree angle, and then breathed a sigh of relief. 
Beginning the Bike Leg along West Cliff Drive;   Image of Wind during race - Head wind out, tail wind back.
The beginning and end of both the bike and run were along West Cliff Drive, so as I was finishing the bike I was seeing the faster people already on their run. A quick transition to the run and I was off, and it would be my turn to see the slower bikers making their way back in. After West Cliff, the course went through Natural Bridges State Park and eventually hit the dirt trail of Wilder Ranch Preserve. The strong winds were clearly evident along the coastal cliffs of the Preserve, but the incredible views of secluded beach coves was amazing. The majority of the run course was paved road, but the 2.5 mile loop in Wilder Ranch was uneven and rocky dirt. Near the end of the dirt portion I had my second encounter of the weekend with a train track. My toe caught the lip of an old piece of track and I went tumbling to the dirt. With all the sweat covering my body, the powdery dirt stuck to me like glue. At the next aid station I took several cups of water and tried to raise it off, but with only minimal success.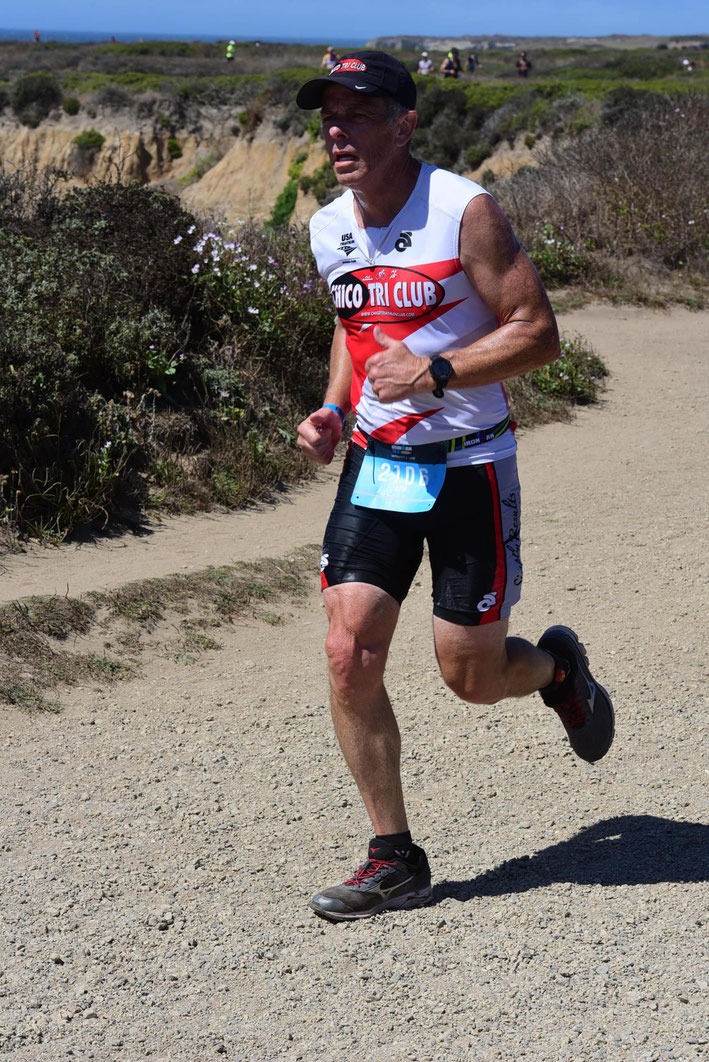 Running along the spectacular cliff coastline in Wilder Ranch
With my knee holding up just fine, the main issue over the last few miles was my lack of training. Normally the run leg is my strength, but with only two 10-mile runs under my belt and minimal overall training miles, I was just hoping to be able to maintain a good pace. Time to start doing calculations in my head. In my two previous 70.3 events I did them both in 5:44. However, they were both five years (and many injuries) ago. So I had decided that my goal for this one would be to break six hours. I was pretty much right at that pace the whole day. My legs felt good at the pace I was going, and I figured that if I tried to speed up to definitely get under six hours it might backfire and cause cramping, so I decided to just let the chips fall where they may.  Finishing the run along West Cliff I was seeing the last of the bike riders coming in and also many just starting their runs. I was thinking that most of those, despite their hard efforts, would not make the cut off times and end up as a DNF.
The finish line was finally in sight, and in true Santa Cruz tradition the run finished on the beach. This meant about the last 50 yards being run on the sand. As I was rounding the final corner into view of the finish line and all the people lining the finish chute, out of the blue I got a cramp in my left hamstring. I'm thinking, "are you kidding me." I do 70.3 miles and then get a cramp in the last 50 yards?!? I knocked it with my fist a couple of times and luckily it eased up enough to cross the line. When my wife saw me round the corner, she thought "oh no, he's been fighting a cramp a long time", but I quickly told her that was my only cramp encounter the whole race. 
On the final stretch of sand, and smile starts to break out on my face.
(Notice the red scrape on my right knee from where I hit the dirt on the Wilder Ranch trail).
As soon as I crossed the finish line I took my shoes off and jumped in the ocean. That 60 degree water never felt so good, and I finally got all the dirt off my body.
I ended up with an overall time of 6:01 and 8th in my AG (and less than eight minutes off the podium). That made me feel good, as with my normal run training I figured I could run at least 10 minutes faster and perhaps make it to the podium next time.
It was fun seeing my CTC teammate Justin Waller during the race, our paths crossed several times throughout the day. I was also excited for my friend Sena Minshew from Yuba City as she earned a spot in next year's 70.3 World Championships in Taupo, New Zealand! 
A nice looking medal.   The pros had a strong field, including Woman's winner Sarah Crowley,
one of the top triathletes in the world, who finished 3rd in the 2017 Kona World Championship. 
Another benefit of having our hotel right across the street was that I could drop off my bike and all my gear back in the room, take a shower, and enjoy the post race food and activities clean and refreshed. For a nice way to end to the day, we enjoyed a wonderful dinner at Shadowbrook in Capitola. All-in-all a fun race and a great weekend. I would definitely consider doing the Santa Cruz 70.3 again.